The year 2022 has only just begun, and already there is bad news for the people of Ibadan, Nigeria, as Olubadan, the monarch of Ibadanland, has been certified dead on the second day of the year, January 2, 2022.
The king of Ibadanland in Nigeria is known as Olubadan (Yoruba: Lord of Ibadan). Ibadan was created in the 16th century, but it was not until 1820 that the Yoruba people assumed control.
Following his coronation on March 4, 2016, Oba Adetunji was crowned the 41st Olubadan of Ibadan.
According to reports, the 93-year-old king died in the early hours of Sunday morning, January 2, 2022, at the University College Hospital (UCH) in Ibadan, Oyo state.
Olubadan is no longer alive: The death was confirmed by palace sources on Sunday, who requested anonymity.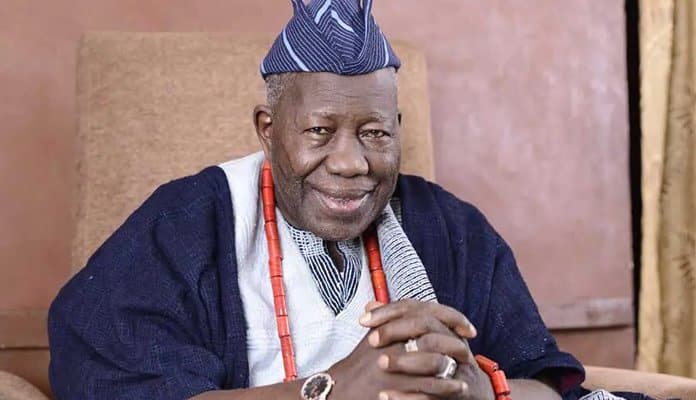 Update:

Olubadan's body arrives palace
Oba Saliu Adetunji, the late Olubadan of Ibadanland, has arrived at the Popoyemoja Palace in Ibadan.
His body was transported in an ambulance from Ibadan's University College Hospital (UCH).
At 10:40 a.m., his body arrived. Clerics have already arrived at the palace to offer prayers.
Saliu Adetunji was a Nigerian monarch who ascended to the position of 41st Olubadan of Ibadan on March 4, 2016.
On August 26, 1928, in Ibadan, Oyo State, Saliu was born as the first of 17 children to Raji Olayiwola and Suwebat Amope Adetunji.
He learned technical skills as a child before deciding to make a life as a fashion designer after relocating to Lagos.
Saliu dabbled into musical record marketing while working as a fashion designer until 1960, when he launched the first of three record label labels called Baba Laje Records, which featured prominent Fuji music acts such as Dauda Epo-Akara and Wasiu Ayinde Marshall.