Pierre-Emerick Aubameyang after dragging out all the stops, including flying to Spain, was ultimately able to complete his move to Barcelona, as Arsenal finally caved in and cut their losses.
The conflict between manager and star player has been going on for a long time.
It explains why Pierre-Emerick Aubameyang was willing to go to great lengths on deadline day to force a trade to Barcelona.
Mikel Arteta has left Aubameyang, 32, out in the cold following their previous spat, and despite Arsenal's struggles to score goals, the manager would rather see his most prolific striker depart on a free transfer than kiss and make-up.
Even the most ardent Arsenal supporter would have to concede that Aubameyang hasn't been the same player since signing a three-year deal worth £350,000 per week in September 2020.
Arteta was the one who championed the deal, pushed it through, and has probably been kicking himself ever since.
The relationship's fractures were first exposed in March 2021, when Arteta omitted Aubameyang from the North London derby due to "disciplinary grounds."
The Gabone striker was eventually revealed to have been stopped in traffic, and it was far from the first time he had been late, but it was easier to square off because Arsenal had defeated Tottenham.
Aubameyang also missed a UEFA test, which knocked him out of the Europa League trip, and he suffered malaria while on international duty in April 2021, which he could have avoided if he had received a vaccination.
He was one of numerous athletes who tested positive for coronavirus at the start of the 2021/22 season, which no one can blame him for given the ongoing outbreaks.
The feud erupted again when Arteta benched Aubameyang in December 2021 after the striker failed to return after being granted permission to fly to France to see his ailing mother.
That divided fans' opinions, but it wasn't the first time – and yet it became evident that it was Arteta's last chance.
Since taking over in December 2019, Arteta has received some criticism, but no one can allow their captain, biggest star, and highest-paid player to set such a horrible example. The final insult was Aubameyang's decision to fly to Barcelona on his own.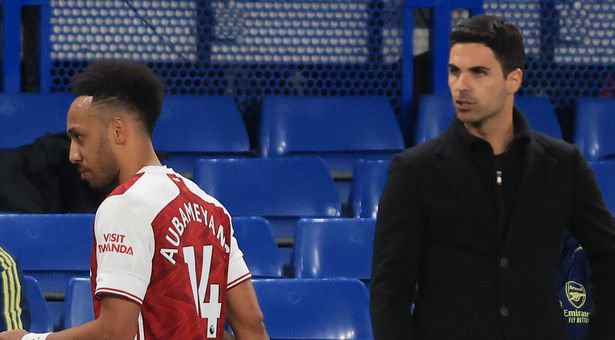 In recent weeks, Arsenal manager has been diplomatic in his responses to Aubameyang's situation, but both the club and the player have knew it was over.
But the problem is that when the squad isn't producing goals – they scored just one goal in five games in January – Arteta seems like he's cutting off his nose to spite his face by benching the club's most prolific scorer.
Even worse, Arsenal went to tremendous efforts in January to find a successor, but they were unsuccessful. Dusan Vlahovic, the number one target, moved from Fiorentina to Juventus, while all other choices fell through.
Arteta couldn't possibly bring Aubameyang back into the fold. There has been an excessive amount of water under the bridge. The fact that Arsenal was willing to sanction this deal and put an end to Aubameyang's time at the Emirates says it all.
However, if Aubameyang scores goals elsewhere and Arsenal falters, missing out on the top four or, even worse, a spot in the top six, Arteta will have a difficult time justifying the streak.
Arteta is in a tight spot right now. His contract will run out in 2023. There has been no rush to renew, with the club prepared to observe how this season unfolds, despite the fact that they spent £160 million last summer, even though no major acquisitions have been made this window.
However, if Arsenal finishes in the middle of the table and Aubameyang continues to plague them, Arteta will not be popular with the fans.