OccupyGhana, a civil society organization, has asked the government to halt the implementation of Executive Instrument (E.I) 144.
The CSO stated in a letter dated May 23, 2022 that "We write to demand that you revoke or suspend the operation of the Forests (Cessation of Forest Reserve) Instrument, 2022 (EI 144) and the Forests (Achimota Firewood Plantation Forest Reserve) (Amendment) Instrument, 2022 (EI 154) forthwith."
OccupyGhana added that, "Instead, we demand a full public inquiry under Chapter 23 of the Constitution into the matter of the Achimota Forest Reserve."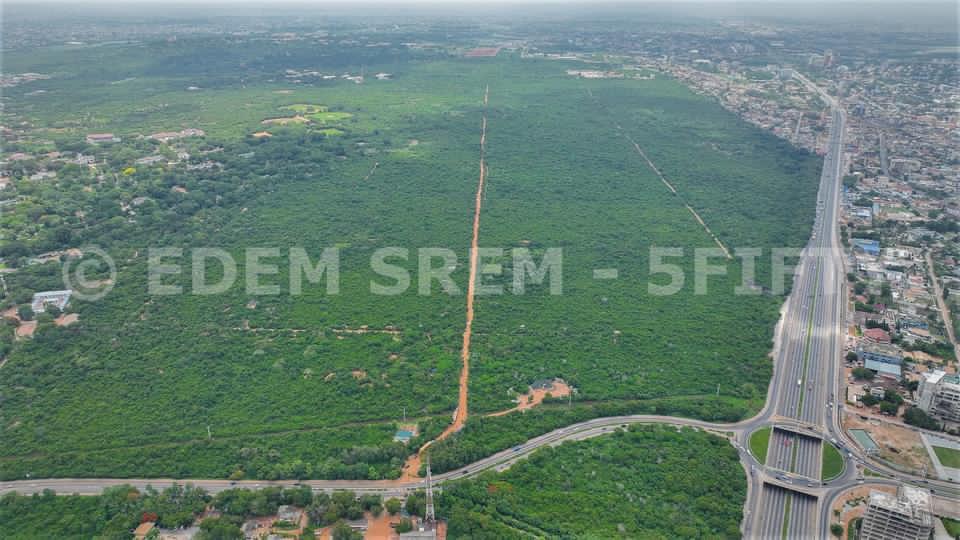 "The purpose of the inquiries would be to reverse any illegal acts perpetrated, and improper gains made, by government officials under the guise of returning lands," the CSO explained.
OccupyGhana also mentioned a letter from Mr. Samuel Abu Jinapor, Minister of Lands and Natural Resources, dated May 18, 2022, in which it stated, "vehement disagreement with the alleged plans to return substantial portions of the Achimota Forest Reserve to its former owners."
Since writing that letter to the Minister, OccupyGhana claims that, "we have had further cause to believe that this state of affairs is worse and much wider than is apparent. We are also concerned that there might have been serious instances of conflict of interest and conflict of duty involving government officials and other government actors, concerning those lands."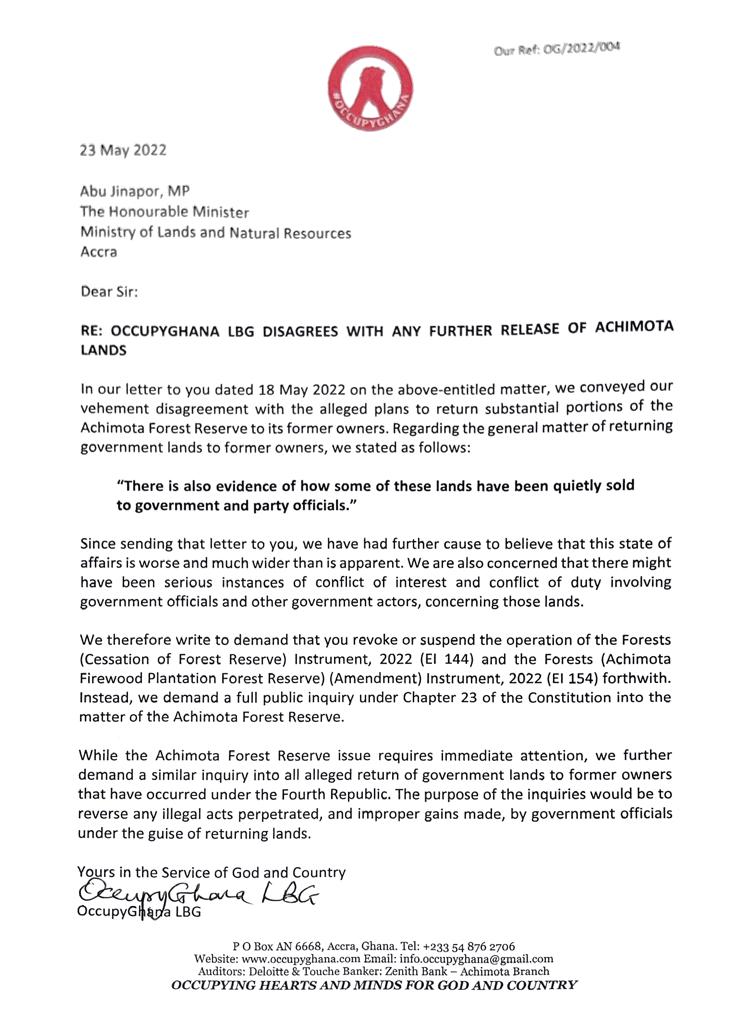 The organization also demanded that the government launch an investigation into all purported government land returns to former owners that occurred during the Fourth Republic.
It may be remembered that the government issued an Executive Instrument last week to declassify the Achimota Forest. According to Section 19 of the Forest Act, 1927, the area on which the Forest is located will cease to be a forest reserve on May 1, 2022, as gazetted on behalf of President Akufo-Addo by the Lands Minister, Samuel Abdulai Jinapor (CAP. 157).
According to that paper, the ban would take effect on May 1, 2022.
However, Samuel Abu Jinapor, the Minister of Lands and Natural Resources, has stated that the government will not sell the land.
He claims that plans are in the works to transform the Achimota Forest into a world-class asset.
The sector Minister told the press on Tuesday, May 17, that extensive allegations concerning the putative sale of the Forest are false and unfounded, since the government has no such plans.
"The government plans to enrich the Achimota forest, refurbish it, and hopefully make it into something akin to London's High Park and New York's Central Park, where Ghanaians can enjoy the beauty of nature and forest reserve as they can in other parts of the world in the not-too-distant future."